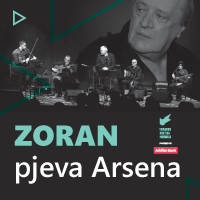 There are no active performances for this event!
Event details
Poštovani kupci,
obavještavamo Vas kako je događaj "Zoran Predin pjeva Arsena", koji se trebao održati u Šibeniku 28.7.2019., odgođen zbog lošeg vremena. Novi datum je 31.8.2019., a lokacija je ista. Ulaznice će vrijediti i za novi datum.
Ako Vam novi datum ne odgovara, molimo Vas da nam se javite na info@eventim.hr do 11.8.2019. kako bi poništili ulaznice i izvršili povrat sredstava.
Ako ste ulaznice kupili na prodajnom mjestu, povrat možete ostvariti na istome do 11.8.2019.
Hvala Vam na razumijevanju.
_________________________________________________________
Zoran Predin is performing at St. Michael's Fortress on July 28 and devoting a concert to his close friend and colleague - Arsena Dedić.
The Šibenik audience in can expect the well-known verses in gypsy swing arrangements which Predin created with Bruno Urlić as well as the already published songs from the album "Zoran sings Arsen".
Predin's concert is a continuation of the stories related to Arsen and St. Michael's Fortress where Arsen held his last concert. Three years ago, his birthday was marked wih the concert ''Jazz for eternity: Matija and Gabi for Arsen with friends'', and this year it will be a friend for a friend concert.