Iron Maiden
There are no active performances for this event!
Event details
Dragi kupci,
Objavljujemo bitne informacije vezane uz koncert Iron Maiden @ Arena Zagreb, 22.05.2022.
Predviđeno otvaranje ulaza će biti u 18:00h.
Posjetitelji za ulazak u Arenu ne trebaju ni COVID potvrdu ni negativan test.
U Arenu možete ući na bilo kojem ulazu.
Preporučujemo da odaberete onaj ulaz na kojem je u tom trenutku najmanja gužva.
Svaka osoba neka ima svoju ulaznicu.
OBAVEZNO je printanje svoje print@home ulaznice na A4 papir laserskim printerom.
Svoje print@home ulaznice presavinite prema uputama koje su navedene na njima.
Važna obavijest za sve posjetitelje showa je da je ulaz u dvoranu zabranjen s ruksacima i torbama većima od A4 formata kao i s fotoaparatima te kamerama.
SATNICA:
19:30 - Predgrupa Lord of the Lost
20:50 – Iron Maiden
Ukoliko imate nekih poteškoća prilikom ulaska, molimo da se javite na Eventim blagajnu (koja će se nalaziti između ulaza C i D). Blagajna će raditi od 17:00h na dan koncerta.
EventimHR
***
IRON MAIDEN ANNOUNCE 6 MORE EUROPEAN SHOWS ON THEIR UPDATED LEGACY OF THE BEAST 2022 TOUR INCLUDING A DATE IN CROATIA AT ARENA ZAGREB ON 22 MAY.
CRITICALLY ACCLAIMED SHOW TO BE EVEN MORE SPECTACULAR
TICKETS ONSALE 6 DECEMBER 10AM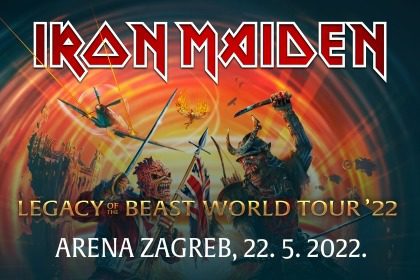 Zagreb, December 1st , IRON MAIDEN have added six more European dates to their Legacy Of The Beast 2022 Tour, including Zagreb Arena on 22 May. Tickets go on sale 6 December at 10am at Eventim. As always there will be an exclusive pre-sale for Iron Maiden fan club members. Special Guests at the Croatia show will be Lord Of The Lost.
The show has already been seen by almost two million people across the globe, being hailed by fans and media alike as the most extravagant and visually spectacular performance of the band's career to date, with a decades-spanning set list of fan favourites and hits. The 2022 show will also include some songs from Maiden's new studio album Senjutsu - which debuted at #1 in Croatia - being played live for the first time.
Iron Maiden Manager Rod Smallwood comments,
"Next summer we will finally get to play the huge European stadium tour for Legacy of the Beast originally set for 2020 and since moved twice! We are delighted to be able to add shows in some of the great cities of eastern Europe, including in the Ukraine where we have never played. We'll be making a couple of changes to the production and setlist to include some songs from our new album Senjutsu and are making the 2022 version of Legacy Of The Beast even more exciting and spectacular than the acclaimed original show , but you can be sure that we will still be featuring all the "hits" and the key elements of the original tour like the Spitfire, Icarus, Hell, flamethrowers and pyro and the rest! But we will shake it up a bit and Trooper Eddie will have serious competition in a new Senjutsu "world" we are adding."
Maiden vocalist Bruce Dickinson adds,
"We're really looking forward to our return to Europe next year and its terrific that we are now able to add Zagreb and the other shows in eastern Europe, great cities and great fans. . I'm excited about the new additions to the stage production and we can't wait for everyone to see what we've got planned. The whole band has really enjoyed the Legacy tour and now we just can't wait get back out on the road to play live, have fun and see everyone again! "
The full list of new European dates is:
MAY 22 CROATIA ARENA ZAGREB
MAY 24 SERBIA BELGRADE, STARK ARENA
MAY 26 ROMANIA BUCHAREST, ROMEXPO OUTDOOR
MAY 29 UKRAINE KYIV, VDNG
JULY 13 BULGARIA SOFIA, ARENA ARMEEC
JULY 16 GREECE ATHENS, OLYMPIC STADIUM
For the complete list of all European dates on the Legacy Of The Beast 2022 Tour, please go to www.ironmaiden.com
The Legacy of the Beast tour production and set list is inspired by Maiden's award-winning free to play mobile game of the same name which is available on iOS and Android platforms at www. ironmaiden.com/play
People with disabilities in wheelchair have to buy a ticket at a price of 0.00 kn.
Children up to the age of six enter free of charge if they sit on their parents' / companion's lap.