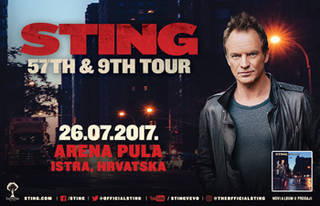 STING SE VRAĆA U PULSKU ARENU
ZAGREB, 2. veljače 2017. – Nakon nedavne objave njegovog dugoočekivanog pop-rock albuma 57th & 9th te rasprodanih koncerata u Sjevernoj Americi i Europi, Cherrytree Management, Live Nation te hrvatska tvrtka MPG sa zadovoljstvom najavljuju hrvatski koncert Stinga u jedinstvenoj Pulskoj Areni, na jednoj od najljepših koncertnih pozornica, 26. srpnja 2017. godine. Bit će to jedini koncert ove engleske zvijezde u regiji, a u Pulu se vraća nakon punih 20 godina.  
Ulaznice za ovaj ekskluzivni događaj u Pulskoj Areni kreću u prodaju 7. veljače 2017., u 9.00 sati, u sustavu Eventima (www.eventim.hr), a s obzirom na to da je turneja rasprodana diljem svijeta, za očekivati je kako će i za hrvatski koncert vladati veliki interes. Samo će najveći obožavatelji, članovi fan kluba Sting.com, imati jedinstvenu priliku kupiti ulaznice u pretprodaji koja kreće u petak, 3. veljače 2017., u 9.00 sati.
Na turneji 57th & 9th Stingu će se pridružiti tročlani bend uključujući i njegovog dugogodišnjeg gitarista Dominica Millera, bubnjara Josha Freesea te gitarista Rufusa Millera.
Stingov dvanaesti solo album 57th & 9th prvi je njegov pop-rock projekt u zadnjih deset godina, a izdavač je A&M/Interscope Records. Album je krenuo u prodaju 11. studenog 2016. godine te donosi deset pjesama koje predstavljaju Stingovu raznolikost u stilovima glazbe i pisanju tekstova, počevši od hrapavog prvog singla "I Can´t Stop Thinking About You", do snažnog i slikovitog stila Road Warrior u pjesmi "Petrol Head" te himničnog singla "50,000". Album kojeg je producirao Martin Kierszenbaum, snimljen je u samo nekoliko tjedana sa Stingovim dugogodišnjim suradnicima Dominicom Millerom na gitari i Vinniem Colaiutaom na bubnjevima, ali i bubnjarom Joshom Freeseom (članom bedndova Nine Inch Nails, Guns ´n´ Roses), gitaristom Lyleom Workmanom i pratećim vokalima iz benda The Lost Bandoleros iz San Antonia.