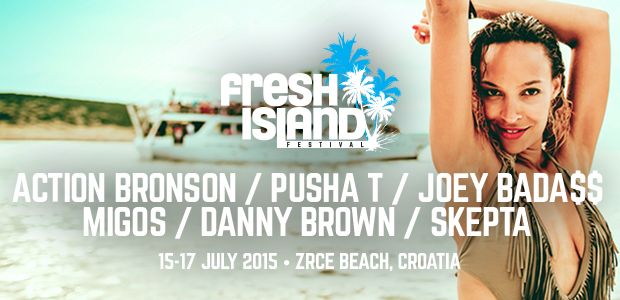 For the first time ever, the festival will host a special UK grime takeover with Noisey, featuring grime prodigy Stormzy, MC Big Narstie and DJ Target. Renowned for supporting talent across the globe, Fresh Island welcomes legendary DJ Cut Killer (FR), Haftbefehl (GER), Rytmus (SK), Big J (AT) and DJ/rap team up Wich & Vladimir 518 (CZ). Today's additions join previously announced Joey Bada$$, Danny Brown, Migos and more. Fresh Island takes over the beaches, boats, pools and clubs of Pag in Croatia on 15th - 17th July, with thousands of urban music and holiday revellers from around the world for the perfect one-of-a-kind getaway. Early bird tickets are now sold out and general tickets are on sale from just €89 with VIP tickets €199 via Fresh Island's website. 
---
Fresh Island has cemented itself as one of Europe's best Hip-Hop, R&B and urban festivals for the past three years with international acts and thousands of revellers jetting to the isle of Pag for the ultimate celebration of the genres' music and culture. For three days the festival will host a mix of stunning live performances, cutting-edge DJs, MC battles, dance crews and beach, boat and pool parties in the idyllic setting of Zrce beach, with takeovers of Aquarius, Kalypso and Papaya (voted best club in Croatia in DJ Mag's Top 100 Clubs).
Larger than life ex-chef Action Bronson will be cooking up a storm for his Fresh Island debut following the recent release of the appropriately titled Mr Wonderful. Next up Pusha T joins the festival, making it up to fans after sadly being unable to perform at last year's event. Working hard on the followup to his critically acclaimed debut LP My Name Is My Name, expected this Spring, the former Clipse member will no doubt be dropping brand new material for revellers at Fresh Island. Having lived and breathed Hip-Hop culture for most of his life, it's only fitting that LA's Evidence is onboard for the festival. A graffiti artist and skateboarder from an early age, Evidence is one of the founding members of respected Hip-Hop group of the 90s, Dilated Peoples. Breaking out on his own, the rapper/producer has since picked up a Grammy for lending his producer talents to Kanye West on College Dropout as well as a slew of revered underground solo material including The Weatherman LP and Cats & Dogs.

Just Blaze is arguably one of Hip-Hop's most iconic producers having worked with some of the biggest names in the industry including Jay Z, Kanye West, Jay Electronica, Eminem, Rick Ross and Kendrick Lamar. His talents aren't confined to the studio, starting out as a DJ Just Blaze has forged an impressive career touring the world and will be demonstrating his skills behind the ones and twos for the Fresh Island crowds. The original champion of Hip-Hop in the UK and firm Fresh Island favourite, Tim Westwood returns to the festival in 2015. Now hosting a show on Capital Xtra, Westwood has used his radio DJ status to bring Hip-Hop to the masses for nearly 30 years, garnering some big name friends in the game as well as going out on his own with the Tim Westwood brand, selling millions of compilation albums.

2015 sees the first ever grime takeover with VICE's Noisey, as Fresh Island gives a deserved nod to some the UK's best. After appearing at this year's Brit Awards with Kanye West, grime's most promising new talent Stormzy will appear along with NAA founding member, MC and now YouTube sensation Big Narstie and Radio 1/1XTRA DJ DJ Target.

A truly international festival, Fresh Island celebrates talent from around the world, other names set to grace the Hip-Hop stages include influential French DJ Cut Killer, Slovakia and Czech Republic's best selling hip-hop artist, Rytmus, Austrian MC Big J and a live collaboration between Czechs DJ Wich and Vladimir518. The festival will also welcome Haftbefehl, one of Germany's biggest Hip-Hop stars, respected by genre fans and literary critics alike for his lyrical prowess in German, Turkish, Kurdish and Polish.

Fresh Island has now partnered with US headphone brand SOUL, who will present the stage at Aquarius Club. SOUL Electronics offer a range of highly breathable and light-weight headphones, specially made for fitness and lifestyle.

Early bird tickets are now sold out, but tickets for the full festival are still exceptional value with three-day general release tickets starting at just €89 (around £65) and €199 (around £165) for VIP.

View the Fresh Island 2014 highlights video here.
FRESH ISLAND 2015 PROGRAMME

Artists:
Action Bronson / Pusha T / Joey Bada$$ / Danny Brown / Migos / Skepta / Evidence / Stormzy
Tropkillaz  / Just Blaze / Statik Selektah / Tim Westwood / DJ Cut Killer / Haftbefehl / Rytmus / DJ Wich & Vladimir 518 / Big J / DJ Target / Big Narstie / Shortee Blitz / Crux Soundsystem / Melody Kane / Juicy Crew Vienna / DJ Maxxx / Miss DJ Candy / Kandee & Remake / Mahreen Luv

Official UK travel partners & festival packages:
Papaya Travel / Croatia Wave / Forever Croatia

Venues:
Papaya, Aquarius & Kalypso

plus many more...