Gabi Novak
- Tickets
The First Lady of Croatian schlager music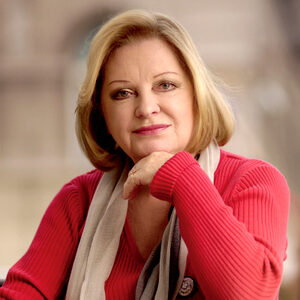 There are no performances available at the moment.
No available Fan Reports
There are no Fan Reports yet written for Gabi Novak. Be the first to write a review and share your experience with others.
Artist description
Gabi Novak is a Croatian jazz singer. She is famous for her schlager performances. The turnaround in Gabi Novak's life came with Nino Kostelac's offe to her to be a voice actor in one animated movie. Bojan Adamić offered right away to Gabi Novak that she follow his orchestra.

After that, Gabi Novak became little by little, a music star.
On Bled jazz festival in 1958, Gabi Novak had the chance to sing in a duo with Louis Armstrong. In the beginning of the sixties,
Gabi Novak started recording LPs. At that time she was offered to try herself on the western market, but when she heard the conditions of the record label (lose weight, change her appearance, sing as they wanted it), she gave up, returned to Yugoslavia and sang songs by Croatian authors. That is one of her most notable traits – she sings only the songs she likes. Most of them have turned into unforgettable hits.

In the seventies, Gabi Novak married the composer and singer Arsen Dedić with whom she remained to this day. The couple successfully collaborates even in business.

Some of her greatest hits are: "Gazi dragi, srce moje", "Pusti me da spavam", "Kuća za ptice", "Pamtim samo sretne dane", "On me voli na svoj način" and "Plava ruža zaborava". In 2002, she gave out a CD with covers of Arsen Dedić's compositions from the beginning of their careers together with half as young Zagreb's jazz musicians, led by her son Matija Dedić. Titled "Pjesma je moj život", it won 4 Porin awards in 2003, amongst them the award for the album of the year.

Gabi Novak is the winner of Vjesnik's Josip Slavenski music award, Vlaho Paljetak award and many other festival recognitions.