AKTUALOV DAN ŽENA
- Tickets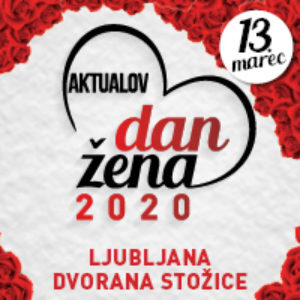 Available AKTUALOV DAN ŽENA tickets
No available Fan Reports
There are no Fan Reports yet written for AKTUALOV DAN ŽENA. Be the first to write a review and share your experience with others.
Artist description
Vrača se dogodek, namenjen našim najdražjim damam, ki vsako leto polni dvorane.
V največjo areno v Sloveniji prihaja AKTUALOV DAN ŽENA 2020 – najbolj romantičen glasbeno-scenski spektakel prihodnje pomladi
13. MAREC 2020, DVORANA STOŽICE!
Z nami bodo dan žena slavili:
Manca Špik & Isaac Palma
Zdravko Škender
Tomislav Bralić & Klapa Intrade
Magazin
Grupa Vigor
Luka Basi
in naša stalnica - gostje presenečenja!
VSTOPNICE:
Parter (stojišče): 23 EUR
Zeleni ring (sedišče): 23 EUR
VIP Parter (stojišče): 39 EUR
Lože: 49 EUR
Rdeči ring (sedišče): 19 EUR
POZOR! ŠTEVILO VSTOPNIC JE OMEJENO, zato si svojo zagotovite še preden poidejo!
Vabljeni na čarobno vzdušje ob dnevu žena! 💜
Ticket alarm
Get notified about future events and happenings
Receive news about artist as soon as we do, directly to your e-mail.